LORD, THANK YOU FOR THIS MORNING...THANK YOU FOR PREPARING MY HEART AND MIND TO FACE THIS DAY...I AM AT YOUR MERCY TO RECEIVE YOUR GRACE...
EVEN IN MY WEAKNESS, YOU CALLED ME TO LAY BEFORE YOU MY HEART
YOU ENCAMPED ABOUT MY SOUL AND SPOKE IN A STILL SMALL VOICE
YOU ALONE HAVE RENT THE VEIL OF MY HEART AND MIND
THE WIND OF YOUR SPIRIT BLOWS THERE FREELY
COMING AND GOING AS YOU WILL
YOU SHOW ME THE PATH OF LIFE
AND IN YOUR PRESENCE IS FULLNESS OF JOY
AT YOUR RIGHT HAND ARE PLEASURES EVERMORE
YOU FEED ME THE BREAD THAT THE WORLD KNOWS NOT OF
YOU, MY LORD ARE THAT LIVING BREAD
ALL GIFTS AND PROPHESYING WILL CEASE
AND THOUGH I UNDERSTAND ALL MYSTERIES
IF I DO NOT HAVE MY BEING IN YOU
I AM NOTHING
EVEN IF I HAD ALL FAITH AND COULD MOVE MOUNTAINS
WITHOUT YOU, I AM NOTHING
FOR IN YOU ALONE I CAN BEAR ALL THINGS
BELIEVE ALL THINGS
HOPE ALL THINGS
ENDURE ALL THINGS
ALL ELSE WILL CEASE AND FADE AWAY
BUT YOU, MY LORD, REMAIN
YOUR WORD REMAINS FOREVER
YOU ARE THAT LIVING WORD
YOU DWELL IN MY HEART
I LONG TO KNOW YOU
EVEN AS I AM KNOWN
TO PUT AWAY ALL CHILDISH THINGS
AND STAND PLEASING IN YOUR SIGHT
THANK YOU LORD FOR WALKING WITH ME THIS MORNING
FOR CAUSING ME TO MEASURE HOW FAR YOU'VE BROUGHT ME
IN THIS JOURNEY OF FAITH, THIS JOURNEY OF LIFE
FOR REJOICING TOGETHER OVER SAINTS MADE PERFECT
FOR THE CLOUD OF WITNESSES WHO REJOICE AND GIVE
PRAISE BEFORE YOUR THRONE
THANK YOU FOR THE BEAUTY OF YOUR FINISHED WORK
FOR APPOINTING TO US BEAUTY FOR ASHES
THE OIL OF GLADNESS FOR MOURNING
A GARMENT OF PRAISE FOR THE SPIRIT OF HEAVINESS;
THAT WE MIGHT BE CALLED THE TREES OF RIGHTEOUSNESS
THE PLANTING OF THE LORD
THAT YOU MIGHT BE GLORIFIED MY LORD
YOU ARE THE VINE
I AM BUT AN EXTENDED BRANCH OF YOU
FROM AGE TO AGE THE SAME
THAT I MIGHT BEAR FRUIT UNTO SALVATION
FOR AS THE EARTH BRINGS FORTH HER BUD
AND AS THE GARDEN CAUSES THE THINGS THAT ARE GROWN
IN IT TO SPRING FORTH; SO YOU MY LORD GOD, WILL CAUSE
RIGHTEOUSNESS AND PRAISE TO SPRING FORTH BEFORE
THE NATIONS.
I AM "NOW" CENTERED IN YOU
RELYING ON YOU
LISTENING TO YOU
WAITING ON YOU
SPEAK LORD, EVEN AS YOU WALKED WITH ME IN YESTERDAY'S GARDEN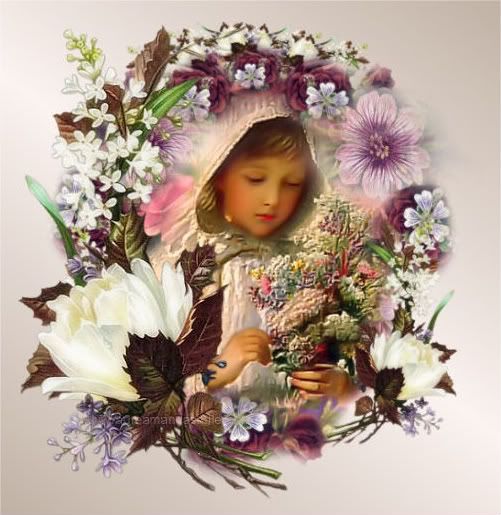 YESTERDAY'S GARDEN....
I WALKED THROUGH YESTERDAY'S GARDEN
I'VE WALKED THERE MANY A TIME
NOW IT'S LIFELESS AND EMPTY
WHERE WEEDS AND POISON IVY CLIMB
YET THE ECHOS OF SONGS THROUGH THE AGES PAST
THOSE SWEET HALLOWED HYMNS OF PRAISE
REVERBERATE STILL ALL AROUND ME
IN SO MANY CHERISHED WAYS
"PRAISE GOD FROM WHOM ALL BLESSINGS FLOW"
STILL RESTS UPON MY TONGUE
I HEAR IT STILL WITHIN MY HEART
IT NEEDS BE EVER SUNG
SUNG WITH HALLELUJAHS
SUNG WITH GREAT AMENS
SUNG WITH GLORIOUS LONGING
WITH FAMILY AND FRIENDS
SO I'LL LISTEN ER SO CLOSELY
TO LOVE'S SWEET, FAMILIAR REFRAINS
AND THANK THE GOD OF HEAVEN
AGAIN, AND AGAIN, AND AGAIN
AS I WALKED IN YESTERDAY'S GARDEN
I WALKED AND TALKED WITH HIM
AND REMEMBERED YESTERDAY'S BLOSSOMS
THAT BLOOMED THERE JUST FOR HIM
THEY TOLD OF THE OLD, OLD STORY
OF JESUS AND HIS LOVE
THEIR PRAISES, STILL TRIUMPHANT
NOW IN HEAVENLY REALMS ABOVE
THOUGH FLOWERS FADE BEFORE ME
THEIR FRAGRANCE FILLS MY DAY
EVEN THROUGH DESERT WASTE LAND
THOSE GARDENS OF YESTERDAY
I'LL LISTEN EVER SO CLOSELY
FOR LOVE'S SWEET MELODIOUS REFRAIN
AND THANK THE GOD OF HEAVEN
AGAIN, AND AGAIN AND AGAIN